Hakuoki and Kaichou wa Maid-sama :D
These two animes must watch! Even though the storyline is a bit slow but it really have deep meaning on all the things they do, especially Hakuoki as it followed the storyline of is PS3/PSP game. It is a mixture of action and romance anime which have a nice plot.
Hakuoki: Shinsengumi Kitan
Chizuru Yukimura is the daughter of a Dutch trained doctor who vanishes on a trip to Kyoto. In search of her father Chizuru sees a Shinsengumi member transform into an ogre. After being captured it is revealed that this change was caused by her father. Chizuru joins the Shinsengumi in search of her father and the cure.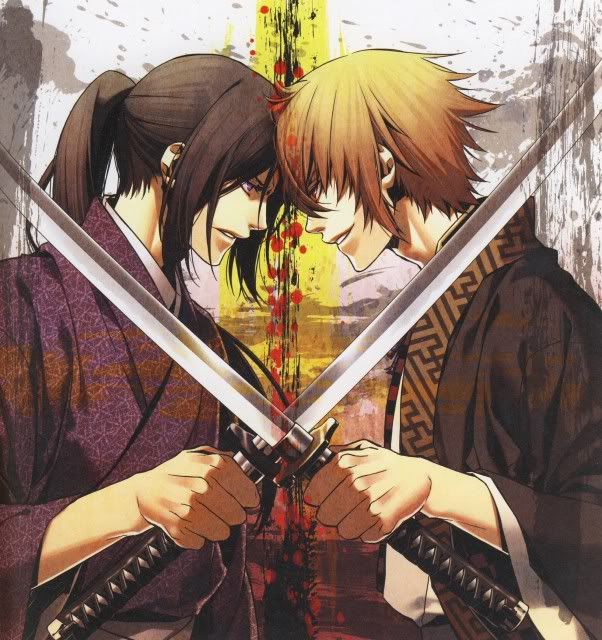 Omg It is Kazama Chikage <3 him so much :333 the baddie XDXD
Opening:

Izayoi Namida – Aika Yoshioka
[My favorite song as well as my HTC Tattoo Message Alert tone muhahaha XD]
Ending:

Kimi no kioku – mao
[Sad song but the lyrics are really touching :D]
Kaichou wa Maid-sama!
In a high school recently turned from all-boy to coed, Misaki Ayuzawa, chairwoman of student council, battles "stinky and dirty" male students every day to protect the few (20%) females in school. Off campus, she works hard at a maid cafe? to supplement the income of her household (as well as leftover foods) after her father had deserted the family — whose action contributed to her hatred toward males. However, Takumi Usui, a handsome guy (and a heartbreaker of many girls) accidentally found out her double identities. She thought the entire school would know by the next morning, yet he kept her secret away from others, making her even more suspicious of his motives.
Opening:

My Secret – Saya Mizuno
Ending:

Yokan – Heidi
[I luv the ending song >:3]